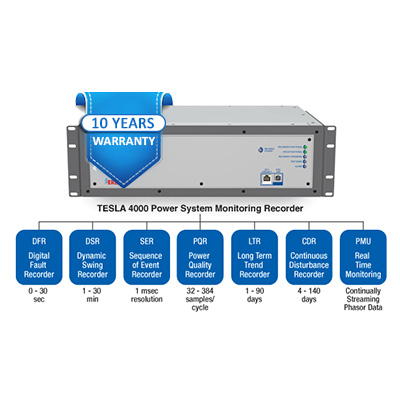 POWER QUALITY & MONITORING FOR POWER UTILITIES & INDUSTRIES
TESLA 4000 – DFR / TFR / DSM / PMU :
Easy-to-use and cost effective, state of the art, multi-time frame (simultaneous) power system monitoring recorder.
Used to capture short, mid and long-term Transients. The TESLA creates records simultaneously in three-time domains – fault (fast), dynamic swing (slow) and trend records and also creates event logs.
Powerful recording and communication capabilities, provide the most versatile and complete monitoring of power system health.
Advanced communication protocols including IEC 61850, SCADA support with enhanced DNP3 and Modbus, provides information for WAMS analysis, Streams 36 Phasors 12 analog quantities and 64 digital statuses simultaneously.
Disturbance / Trancienet Fault Recorder ( DFR/TFR)
Dynamic System Monitor (DSM)
Phasor Measurement Unit (PMU)
Harmonic Analyzer
 5000 Units are installed in the World wide.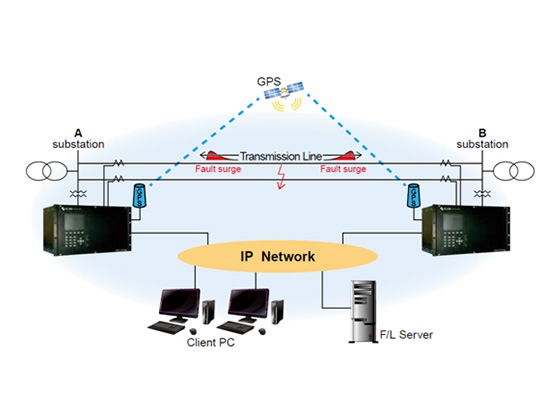 Fault Locator (Transient Wave Fault Locator -TWFL)
High Accuracy
Reliable Trigger
Downtime Reduction
Easy to Operate
Operating Cost Reduction
8 Lines will be accommodated in one Recorder
Over Head and Underground cable
Transmission Line Length up to 600km
  Fault Detection Method:
Surge trigger
DFR trigger (deviation)
DFR trigger (variation)
Digital Input trigger